Angelini Foundation helping UNICEF with the Covid19 emergency in India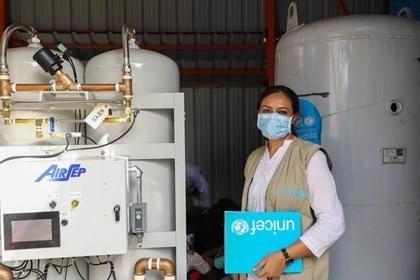 The Angelini Foundation has responded to UNICEF's appeal for help in India, where, due to the rapid spread of the Indian variant, the increase in cases of COVID-19 has spiraled out of control: hospitals and health centers are at saturation point and there is a severe lack of beds, essential medical supplies and especially oxygen.
In this context, Angelini Foundation has given its contribution with a donation that has enabled UNICEF agency, present in India since the start of the pandemic, to purchase a system for concentrating oxygen which, severely lacking in Indian hospitals, is crucial for saving Covid patients as well as a wide range of other medical treatments.  Also thanks to the efforts of its donors, UNICEF is carrying forward nutrition, protection and health programs even in this very testing emergency situation.
The donation is part of the forms of solidarity commitment carried out by Angelini Foundation, which takes its inspiration from various fundamental and ecumenical values: attention to people, support for the vulnerable, education, respect for everything that surrounds us and for the environment in which we live.
Discover more about UNICEF commitment in India https://www.youtube.com/watch?v=SxWeazbPVOI