Angelini sponsors SMAU Innovation Days
Angelini's commitment in the fields of digital and open innovation led the group to partecipate as Main Sponsor to SMAU 2019, the most important event in Italy for Innovation and Digital.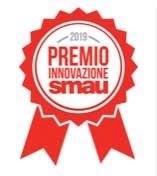 Angelini took part in the event of Milan, which involved more than 30.000 partecipants, and, in the first Le Marche SMAU appointment, which was held in Ancona on November 14th. It was an occasion for companies and stakeholder to discuss about Open Innovation themes, focusing on Industry 4.0 and circular economy, and on Health and wellbeing. On the occasion, Angelini was awarded with the SMAU 2019 Innovation Award, for the projects developed in the pharma field with Information and Communication technology contribution: among them, Angelini chatbot, the project which recently won the Aboutpharma Digital Awards, and the Smart Energy Management project, aimed to increase efficiency and energy saving, thanks to the use of algorithmes of Artificial Intelligence.