Circular economy, FaterSMART protagonist at Ecomondo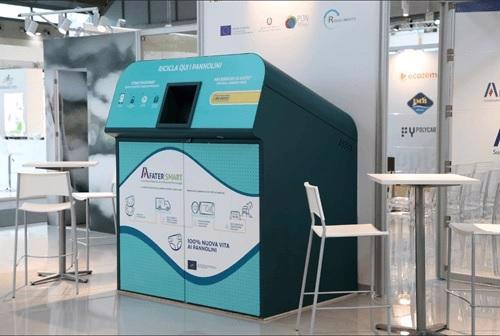 FaterSMART took part in Ecomondo, the sustainable innovation fair in the scope of the circular economy held in Rimini from 5 to 8 November. On this occasion, the Fater business unit focusing on recycling presented the Smart-bin, an intelligent device created to help municipalities with separate waste collection for used nappies; a basic prerequisite to start the recycling process for this type of waste.
It was calculated that over the 4 days Ecomondo was held, over 40 million absorbent hygiene products per person were used in Italy, 7 thousand per minute. A significant accumulation of waste destined to finish up in landfills or incinerators, and which now thanks to the technology developed by FaterSMART, can be recycled, with the recovery of 100% of all the raw materials making them up, namely plastic, cellulose and super absorbent polymer that can be reused in a number of new applications.
The so-called Smart-Bin, an intelligent container for separate waste collection was conceived to facilitate the collection of diapers in municipalities: this is a device that is one of a kind in the world, manufactured entirely in Italy, in full compliance with environment sustainability principles. Its primary characteristics include safety, durability, weather resistant, odor containment based on a sanitization system and ease of use, thanks to an automatic opening-closing system that does not require any human contact and is based on the most modern technologies. The Smart-bin can be activated using a dedicated app providing interaction and an exchange of information between users and collection operators.