Edutech: Angelini Academy among the partners of CDP Venture Capital and H-FARM in the FuturED program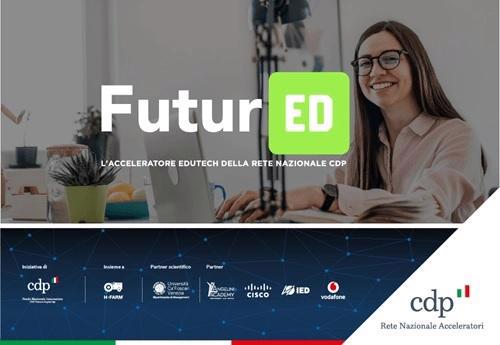 FuturED kicks off today, an acceleration program dedicated to startups operating in the field of technologies applied to education and training. FuturED was born within the CDP National Accelerators Network and has been created by CDP Venture Capital Sgr through the Accelerators Fund, with the operational support of H-FARM, the innovation platform capable of supporting the creation of new business models and the transformation and education of young people and companies from a digital perspective, and with the contribution of industrial partners including Angelini Academy, the Group's Corporate Academy Angelini.
FuturED is aimed at Italian and international startups in the edutech field who are interested in developing their business idea in Italy. The objective of the program, which will last 3 years, is to select and accelerate a total of 30 startups, 10 each year, which offer digital solutions, innovative programs and cutting-edge technologies for teaching and in general for dedicated digital training to all age groups, from children and adolescents, to adults in the world of work and retirees, for continuing education. Three areas of interest identified are: school education, university education, business and continuing education.
The program will take place within the H-FARM Campus on the outskirts of the Venice Lagoon, the largest innovation hub in Europe, open to students, professionals, entrepreneurs and innovation enthusiasts. 
The selected startups will be involved in an 8-month growth path, 4 of which will focus on business acceleration and 4 of support for commercial development and fundraising activities. Thanks to the collaboration with industrial partners - in addition to Angelini Academy, Cisco, the European Institute of Design IED and Vodafone Italy - startups will be able to interact directly with industry experts and will have the opportunity to test their solution in real contexts.
The project makes use of the scientific advisory of the Management Department of the Ca 'Foscari University of Venice. 
For more information, read the CDP Venture Capital Sgr press release.