Pampers Nuova Vita: from Fater a pilot project to collect and recycle wasted absorbent products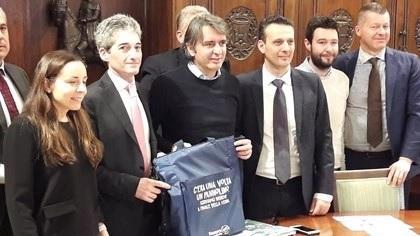 In the picture, Giovanni Teodorani Fabbri, General Manager of FaterSMART, presents to the Mayor of Verona, Federico Sboarina, a shopper useful to bring wasted sanitary products.
It started in Verona, Italy, on January 21st, the first experimental programme of collection and recycle of used absorbent products such as diapers, feminine and incontinence pads. The results of the first week show that 2 tons of materials have already been collected, which means a saving of 840 kg of CO2.
Pampers Nuova Vita, this is the name of the project, is a collaboration between the Municipality of Verona, Fater and FaterSMART (a joint venture between Angelini and P&G), AMIA and Esselunga company. By downloading an App, people can separately collect disposable baby diapers and sanitary napkins in an innovative SMART BIN, a one-of-a-kind device in Italy, designed to integrate into urban areas and made in full compliance with environmental sustainability. The SMART BIN awards a discount coupon of 1,5 euros per 5 kg of material collected. The wasted products are then brought by AMIA in the first world plant on an industrial scale capable to recycle absorbent products, developed by FaterSMART. In Verona, 8 Smartbins have been placed: 5 in front of schools and 3 near Esselunga stores.