Sergio Marullo di Condojanni (Angelini Holding) participates in the G20 Business Summit - B20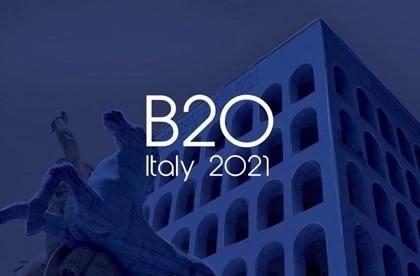 On December 1st, for the first time, Italy took over the Presidency of the G20, the most important forum for international collaboration between industrialized economies and developing countries.
In parallel Confindustria, as the main association representing Italian manufacturing and service companies, is called to organize the G20 Business Summit (B20), the most prominent of the G20 official Engagement Groups.
Reserved to companies and business organizations, the B20 composes of an average of 1,000 delegates from the G20 and accounts around 3,000 participants, representing an overall business community of 6.5 million businesses, including leading multinational corporations.
Angelini Holding, the holding company of the industrial group leading actor in Italy's economy for over a century, is part of the small number of Italian industrial companies that will assist Confindustria in realizing the B20. The Vice President and CEO of Angelini Holding, Sergio Marullo di Condojanni, infact, is one of the members of the B20 Advisory Board.
The main goal of the B20 is to deliver policy recommendations to the rotation G20 Presidency on a wide range of fields of interest for the global industrial system.
Confindustria President Carlo Bonomo has entrusted Emma Marcegaglia (President and CEO of Marcegaglia Holding, Past President of Condindustria, Businesseurope and Eni) to guide the entire process as B20 Chair.
A selected number of CEOs, respectively Italian and international, will assist her in the general direction and in advocacy, trough the abovementioned Advisory Board and an International Advocacy Caucus. The Advisory Board is composed, in addition to Sergio Marullo di Condojanni, also of the following top managers: Nerio Alessandri (Technogym), Marco Alverà (Snam), Marco Bizzarri (Gucci), Alberto Bombassei (Brembo), Sonia Bonfiglioli (Bonfiglioli Riduttori), Diana Bracco (Bracco), Silvia Candiani (Microsoft Italia), Giuseppina Di Foggia (Nokia Italia), Antonio Donnarumma (Terna), John Elkann (Exor), Gabriele Galateri di Genola (Assicurazioni Generali), Francesco Giordano (Unicredit), Marco Hannappel (Philip Morris Italia), Fabrizio Palermo (Cassa Depositi e Prestiti), Pietro Salini (Webuild), Marco Tronchetti Provera (Pirelli), Ermenegildo Zegna (Zegna). Members of the International Advocacy Caucus will be made official in the upcoming weeks.
To read Confindustria press release click here: https://www.confindustria.it/home/media/comunicati-stampa 
To visit the G20 Business Summit (B20) website click here: https://www.b20italy2021.org/