Training at the service of talent: the second edition of the Angelini Future Leaders Program gets underway
Combining excellent management training with hands-on leadership experience in the company: these are the two pillars supporting the program for young talent promoted by Angelini Holding through its Corporate Academy and designed in collaboration with SDA Bocconi School of Management.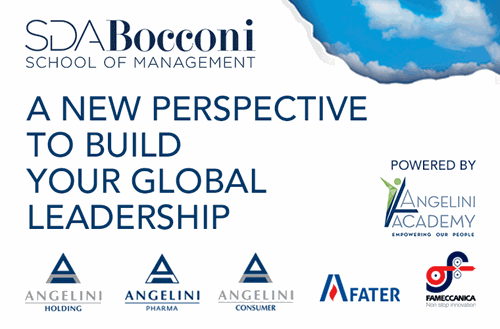 The Angelini Future Leaders Program is a concrete example of the broad pathway towards renewal that the Angelini Group has embarked upon in recent years and that has involved all levels of the organization, from the strategic holding to the operational companies.
On 7th May 2021, the first edition of the Future Leaders Program ended. Over the course of 18 months, this program allowed 14 candidates to undertake training internationally and within the group to lay the foundations for a new generation of leaders.
The second edition is now starting, allowing 16 new employees to embark on an innovative training pathway that includes, after an initial induction week, a mastery program in English at SDA Bocconi and two job rotations in group companies. This formula provides future leaders with the basis for being able to take on a managerial role in one of the companies involved in the project after the course. These companies are Angelini Holding, Angelini Pharma, Angelini Consumer, Fater, and Fameccanica.