Angelini Industries: Isabella Falautano at the helm of sustainability
 Rome - Nov. 8, 2023 - Isabella Falautano joins with the role of Group Chief Sustainability Officer at Angelini Industries, an Italian industrial group active in the health care, industrial technology and FMCG sectors with 5,800 employees in 21 countries and 2 billion euros in sales.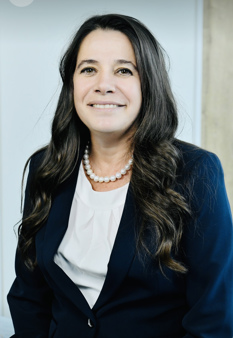 Isabella Falautano will be responsible for the Group's ESG strategy and all sustainability initiatives and projects. Isabella reports to Angelini Industries CEO Sergio Marullo di Condojanni and is part of the Leadership Team.
With a more than 25-year career in sustainability and public relations, Isabella Falautano has held managerial positions from Cassa Depositi e Prestiti to the newly formed bank Illimity to multinationals such as AXA. A cum laude graduate in political science from La Sapienza University in Rome, and with a Master's degree in International Development, she is co-founder of Angels4Women, the association that aims to encourage investment in female-led startups with high growth potential, and conceived illimitHER, the program to enhance the potential of young women and to spread the culture of STEM (Science, Technology, Engineering and Mathematics) subjects. She has been a board member of various Foundations and Associations for social innovation, from Valore D, the first association of companies that promotes an inclusive culture for the growth of companies and the country, to Junior Achievement, for the economic-entrepreneurial education of  young people, to Il Cielo Itinerante, for the development of STEM subjects for kids, to Foundations linked to the business world such as Fondazione illimity, Fondazione Partnership for Bocconi and Fondazione Ania.
Sergio Marullo di Condojanni, CEO of Angelini Industries commented, "I am particularly pleased to welcome Isabella, a leading professional in the sustainability arena who is strongly aligned, also on a personal level, with the values that characterize our Group: ethics, innovation, performance, engagement. With her appointment, our Group further strengthens its commitment to sustainability by giving this function a leading role strongly rooted in our purpose and our businesses."
Isabella Falautano, Group Chief Sustainability Officer of Angelini Industries: "I have embraced with great enthusiasm the challenge of helping to build the long-term sustainability strategy of an industrial group with a presence in different sectors such as Angelini Industries. We will bring forward a holistic approach that addresses the various economic, social and environmental impacts for the sustainable and resilient development of the Group. Starting with the people and ecosystems of which the Group is a part and their involvement in a collective journey to be undertaken together."
As described in the 2022 sustainability report, Angelini Industries has provided to its employees, 94.2 percent of whom are hired on permanent contracts, more than 187,000 hours of training (of which 10,000 by Angelini Academy) and has strengthened corporate welfare with several interventions including a 500-euro bonus given to all Italian non-managerial employees as a result of rising energy and consumer goods prices. In the past year, Angelini Industries invested 82 million euros in research and development. The Group is committed to reducing plastic use and CO2 emissions.
Through the Angelini Foundation, which is fully funded by the Group's profits, it promotes projects in the social sphere: in 2022 it contributed to the creation of the largest pediatric palliative care center in Italy built by the Bambino Gesù Children's Hospital and supported organizations engaged in the ongoing humanitarian emergency in Ukraine (Unicef, Italian Red Cross, Centro Astalli, Community of Sant'Egidio). Through the ReStart project, it has allocated 2 million euros to more than 2,000 micro-enterprises in the Marche region affected by the economic crisis generated by the Covid-19 pandemic.