Angelini Industries Launches 'Hack 4 Change': Students Participate In Digital Transformation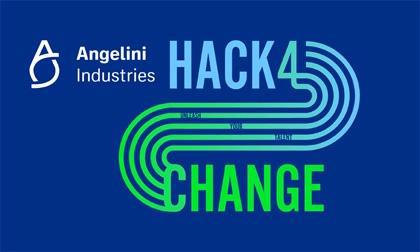 Rome, 3 February 2022 – 400 students from Italian polytechnics and universities are competing online to develop innovative digital transformation projects aimed at optimizing business processes in the areas of 'corporate engagement' and 'data driven' approach. The 'Hack 4 Change' initiative has been launched by Angelini Industries, an Italian multinational company active in 26 countries with 5700 employees in the pharmaceutical, consumer goods, industrial machinery, perfume and cosmetics, and sectors, in collaboration with Fameccanica, a joint venture between Angelini Industries and P&G, Angelini Academy, Angelini Industries' corporate academy, and Codemotion, the leading platform for the professional growth of developers and for companies looking for the best talent in technology.
Hack 4 Change consists of 4 innovation 'challenges' that will take place between February 22 and May 6, 2022;
Registration is free and is aimed at students from polytechnics and engineering faculties and developers, designers, creatives, data scientists, experts in artificial intelligence, robotics and automation. You can already register on the Codemotion platform (https://extra.codemotion.com/angelini-hack-4-change-home/) ahead of the opening of registration on February 22.
Through this initiative, the participants in the 4 challenges, which restyle the "hackathon" (one- or multi-day events, originating in computer science, in which young people compete to solve a problem) format on digital platforms, can learn about Fameccanica, the international automation and robotics group with 700 employees and 3 production sites in Italy, North America and China. The training part of the project is entrusted to Angelini Academy, which will ensure that skills such as analytical thinking and creative thinking, technical design and programming are fully applied. This part will be implemented by Codemotion. The participants, divided into groups, will be accompanied along the way by 'Mentors', technical and specialized figures from Fameccanica and Codemotion who will guide them in the development of the project. The goal is to stimulate collaboration among students and the development of innovative ideas and projects that can be concretely applied in the industrial group's production processes.
The project will be presented during a live stream – also visible on Angelini Industries' LinkedIn channel – on February 22 at 11 a.m., while the awards ceremony will be held on Thursday, May 26.
"Investing in knowledge is vital for ourselves, for companies and for the country," comments Tiziana Carnicelli, Group Education & HR Communication Head at Angelini Industries. "At Angelini Academy we believe that valuing young people's creativity and listening to their ideas about technological innovation projects will give us ideas that can be applied within Angelini Industries' training and development programs."
"Over the past few years, we have witnessed enormous changes in both business models and technologies," observes Alberto Liverani, Global HR & Organization Director at Fameccanica Group. "The challenge of addressing these changes lies in the hands of young people who, with their ideas, will help Fameccanica play a leading role in dealing with these transformations."
"At a time when technology profiles and skills are in great demand from companies, 'Hack 4 Change' is an opportunity for students and young professionals to showcase their skills, grapple with emerging technologies and connect with a large company," comments Chiara Russo, CEO and Co-Founder of Codemotion. "Together, we will help young participants to test their 'entrepreneurial vocation' and learn how to transform an innovative idea into a concrete project that can be applied within the company and on the market."
Hack 4 Change – what it involves
Hack 4 Change restyles, with meetings held remotely and on digital platforms, the format of hackathons, events lasting one or more days, originally created by computer experts, in which a group of participants compete and challenge each other to solve a problem.
The four hackathons have two main themes:
- Corporate engagement and productivity, which highlights the positive correlation between employee well-being and the business environment. This is the focus of the 'Work-life balance' hackathon to identify innovative models to manage the balance between personal and working life, as well as of the 'Remote Troubleshooting' hackathon on the relationship between customer and supplier (February 22-March 20)
- Data Driven company, where the challenge is to value data as a business asset and the importance of making decisions based on objective data and facts. The hackathons in this case are devoted to 'Data Control Room', linked to data management optimization, and Network: Sharable expertise on the value of networking and how best to manage it (11 April-6 May):
The hackathons will be held at separate times and registrations can be made even after the session has started. A jury, consisting of representatives from Angelini Industries, will award prizes to the four best projects.
The winning groups will receive technology prizes, while the awarded projects will be considered by Angelini Industries for their potential application within the company's production processes.