New Headway Report highlights environmental determinants of mental health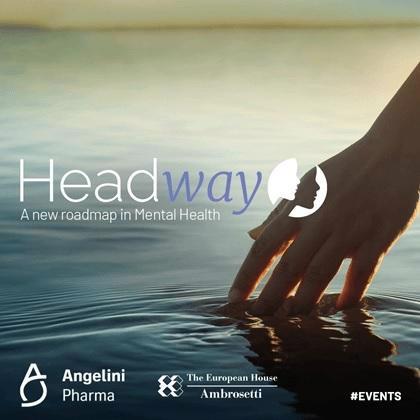 Brussels, September 28, 2022 – The conflict in the Ukraine and the impact of climate change will be among key factors behind a tidal wave of increasing mental health disorders in Europe according to findings from the latest Headway report titled A new roadmap in Mental Health. The report was presented today by The European House – Ambrosetti, an Italian Think Tank, together with Angelini Pharma, an international pharmaceutical company which is part of the privately‑owned Angelini Industries.
The Report compares mental health across 28 European countries using 55 key performance indicators (KPIs), highlights stark differences regarding the status of mental health and how countries are set up to address issues and support their people. Continuing a trend already evident in results from 2021, Northern European countries generally score better on the Index, while Romania, Bulgaria and Slovakia are among those with the lowest overall scores.
For the first time since the Headway initiative was launched in 2017, the Mental Health Index specifically reviews environmental determinants of mental health, and therefore highlights the disastrous impact of issues such as climate change or conflicts and migration. Environmental determinants are a recently framed category in mental health that incorporates all external conditions affecting the life, development and survival of a person. Looking at these environmental factors of mental health shows that Denmark, Finland, Sweden, Estonia, and Ireland are set up comparatively well in this regard, while Eastern & Southern European countries still have work to do in addressing these determinants of health, with Romania, Bulgaria and Greece having the least favorable environmental factors.
"This report refocuses international attention on the importance of environmental influences on mental health, such as climate change, economic recession or geopolitical crises like the war in the Ukraine," said Pierluigi Antonelli, Chief Executive Officer, Angelini Pharma. "Mental disorders continue to impose an enormous social and economic burden on communities. Insights from the Mental Health Index 2.0 show that by 2030 mental health disorders will account for more than half of the global economic burden due to non-communicable diseases, which is why we need to act now!"
Environmental determinants impact individuals differently
While climate change has been documented to impact mental health outcomes similarly across different populations, the Index argues it will impact individuals differently. Young and indigenous people as well as those living with pre-existing vulnerabilities, cognitive/mobility impairments or those living in poverty are expected to be most affected. The Index describes impacts to include increased mortality, impulsive and aggressive behaviors, and higher suicide rates. It further reveals that previously little-discussed factors such as an average monthly temperature increase of one degree are associated with a 0.48% increase in mental health emergency department visits and a 0.35% increase in suicides.
Looking at the impact of conflicts and migration, the Index reveals an estimated 22.1% of people experience a mental disorder in conflict settings (13% mild forms of depression, anxiety and PTSD; 4% more moderate forms; 5.1% severe depression and anxiety, schizophrenia, and bipolar disorder). Post-conflict, approximately one in five people continue to struggle with depression, anxiety disorders, PTSD, bipolar disorders and schizophrenia. With 27 ongoing conflicts around the world and 68.6 million people displaced worldwide according to the United Nations, addressing the mental health needs of people affected by conflict and migration is an urgent priority.